---
You lucky bastards have to wait 3 days to meet Thea Starr. I have had to wait NINE YEARS!
When my third kid was born, I felt housebound and sort of isolated. That's how I found the first online community I ever joined. It was a group of moms who had similar backgrounds to mine. Moms that still went to shows and had tattoos and did some crazy shit back in the day! It was the first time I ever saw another mom with tattoos holding a baby! Reading this now, it might sound ridiculous, but this was nine years ago. Not that these things make for instant friends, but it's nice to see other people with kids and think you might be able to relate to them.
One of these moms was Thea Starr. She was making handbags and kanzashi flowers from vintage kimonos. (She's my first craft friend, come to think of it!) What made me totally fall in love was a post she made on the message board about being excited to go to Olive Garden with her family. If you have more than one kid who can talk, finding a restaurant where no one bitches is tough and being excited about the Olive Garden is nothing to turn your nose up at. So a couple of hours later, she posts a picture of herself with a giant-ass bag of bread sticks. It's the little things that make friendships. THEN, I saw this pic on her blog. That was all it took.
The original board grew to a ridiculously huge size so Thea had a spin off site and we still communicate through there along with about 15 other moms. Hard to believe it's been nine damn years! I'm so excited to meet her in person.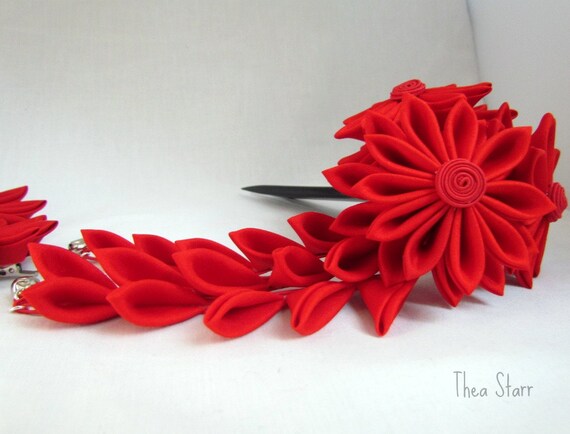 (This is some of the awesome work from her etsy shop)
Thea lives in Seattle, and the chances of us meeting were pretty slim. UNTIL CRAFTIN OULTAWS! Now you too can get in on the Thea Starr goodness! Come to Craftin Outlaws and say hello! If you want to wear some hairpieces like the ones Thea made for Julianne Moore or Mira Sorvino (I shit you not!), now's your chance!